Today's date:
---
---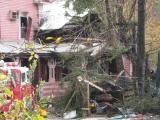 ---
A three-alarm fire claimed a barn, and a cheese making operation at the Agape Homestead Farm on Rte. 16-B on Thursday October 14th.
The 1820 farm house owned by Janna and Kevin Straughan, which was attached to the barn by an ell, was also severely damaged in the fire, which broke out shortly after six a.m. and brought firefighters from as far away as Conway.
Kevin Straughan said that he was alerted to the fire by a man banging on the front door and yelling that the barn was on fire.
"When I got to the barn I could see a glow in the back against the trees. I went out to let the goats out but they wouldn't come out," said Straughan.
He said that he then rushed back to the house to get his wife and several small children out of the home as the flames spread rapidly from the barn to the house.
He said that everyone got out of the house safely and that by the time firefighters arrived the back of the barn was a wall of flames.
The Straughans, who make goat cheese and sell other products from their home, are members of the New Hampshire Cheesemakers Guild.
They lost all but six of their herd of 21 goats, as well as 15 sheep, a bull calf, all of their laying hens as well as 70 recently hatched chicks.
Also destroyed by the flames was a delivery vehicle and horse trailer used at the farm and the processing area where the goat cheeses were made.
Straughan said that it appeared that the main section of the home may be too heavily damaged to be repaired. "It's an older home and the flames went through it pretty good once they reached it,"' said Straughan.
The Straughans, who oversee the largest food pantry in Carroll County, make a living by selling their homegrown products, everything from flavored goat cheeses, raw goat's milk, meat, eggs, home baked pies, bread and muffins, as well as goat's milk soap and hand-knit caps and scarves made from wool which is spun from their own sheep, in a self-service store in one part of the barn which was destroyed.
Kevin and Janna are pillars of the community They are always there to help others when there is a need. They run the local Agape thrift shoppe, as wel as the food pantry. They are always giving to their community one way or the other. Even in their cheese business they always used the honor system with customers.
A BIG thank you goes out to anyone who helps by making a donation to help the family in their time of need.
Also a big Thank you goes out to the over 75 firefighters and their Fire departments and EMS services for their quick response and assistance. Thank you so very much to Center Ossipee, Ossipee Corner, West Ossipee, Tuftonborough, Wolfeborough, Freedom, Effingham , Madison, Conway, Wakefield, and Tamworth.
Thank you all who have donated so far. And Thank you to the Tamworth exchange and freecycle.com for allowing us to post the most needed things as well as the other smaller needed things.
We have set up this website as a site for donations to be sent to Paypal on the families Behalf. To help in restoration of a few of the smaller items they were able to save from the smoke, water and fire damage, as well as moving and living expenses as well as animal feed, hay and bedding.
This website is here so you can make a donation for the Family and Farmstead.